Television / Media Advertising Software for Professional Campaign Planning.
THE ULTIMATE software sales and marketing tool for television or radio advertising sales executives who are serious about success through superior customer service.
PHOENIX SPEEDBUY gives you the edge in the market place by integrating key sales elements - program lineup, rate grid and audience delivery data, into a potent sales utility.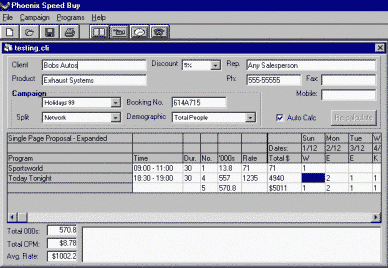 PROVEN by extensive market testing and a practical performance history, this program wipes out forever, any tedious manual paperwork or programs because it is purpose built to make you more efficient and win your network increased revenue share.
YOUR productivity will dramatically increase when you run Phoenix SpeedBuy because it's so fast and easy to use with the most professional schedules produced in minutes.
ENJOY increased success and job satisfaction with more client presentations because you have:
Total portability
Instant campaign schedule reports
Increased professionalism
Improved negotiating data
CUSTOMER friendly reports and information increase your relationship selling with improved sales results.
FULLY customizable, PHOENIX SPEEDBUY allows you to roll out a complete marketing tool for your organisation, maintaining its Program Guides, Rate Cards, Splits, Demographics and Audience statistics in house, thus proving to be a once off cost.
Because we are committed to providing the perfect software solution, we welcome your suggestions and feedback so we are able to make Phoenix Speedbuy even more powerful and user friendly. Just let us know what we can do to make Phoenix Speedbuy work for you !
Click here to fill out our online information request form.